Geeze I can't believe that I hadn't written anything in well over a year! The kids are really growing fast. My oldest DD is now in Second Grade. My DS is now in Kindergarten and goes every other day all day long. :) It's kinda nice because my youngest DD and I now have all day to ourselves. She is sleeping and I should be taking advantage of that by sewing.
Gosh so much has happened in over a year! I still have my business but it's taken a little bit of a turn. I ended up leaving the company that I was a licensee for and taking a venture with a dear friend of mine. We now have this website.
Panda Pants
I did all of the graphics for it and my Partner did the verbage because incase you can't tell I'm just not very good with that portion. LOL. My wonderful Mother did the web tech portion of it. She is a guiness! We have a newsletter and a gallery and it's all integrated with
Hyena Cart
to make it look like it's one website. :)
My partner and I have lots of plans for our business. We both own embroidery machines and want to branch out from just makeing Cloth Diapers. We want to make and embroider childrens clothing and blankets and what ever strikes our fancy.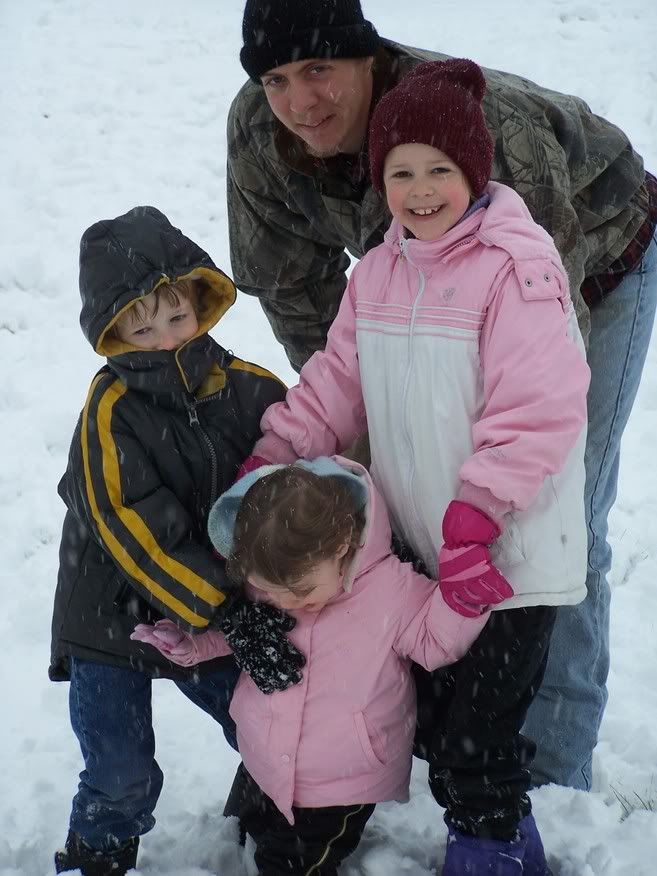 Now I'm sure you are all wondering what my kiddos look like now a days. So here is an updated pic for you.
It was suppose to be a school day and my DH was suppose to be working. However the weather had other plans.
It would have been a good picture if I had been able to get the little one to acutally look at me. She was too busy trying to figure out what the slippery white stuff was.
Enjoy!